You've probably heard the phrase "I need a vacation from my vacation." (Maybe you've even spoken those words yourself.) Pre-travel anxiety over things like plane tickets, hotel reservations and getting ahead of your work schedule often carries over into the vacation itself, compounded by the pressure to have a good time, to relax, to get your money's worth. We're starting to hyperventilate just thinking about it.
Some of these obstacles are avoidable, though, by turning your backyard into a luxury vacation spot. With this approach, you can enjoy some perfect vacation perks while dodging those pesky vacation pitfalls.
How, exactly, does one create such backyard bliss? Keep reading to find out.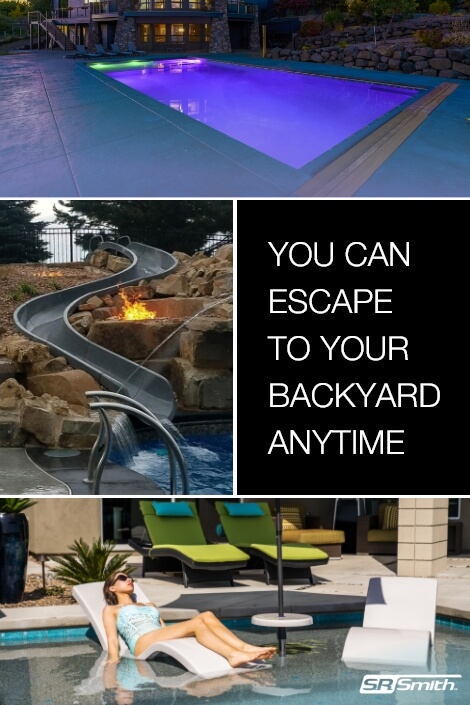 Pool Lighting
If you've ever taken a selfie, you know the difference good lighting can make. The same is true for a picturesque backyard. Indeed, lighting is often a make-or-break factor here, especially when it comes to your pool area.
Imagine your backyard pool at night, without any lighting. What does that space look like? Probably a bit drab, right? Not exactly ideal for a staycation evening. A well-lit pool, though, truly illuminates your entire backyard, setting the mood for whatever you have in mind.
S.R.Smith has numerous pool light options, depending on your budget and aesthetic. Our LED pool light selection includes hot items like the LED lit, fiber optic Star Floor kit and the Mod-Lite® with PowerPass™ wireless technology. With these items, your backyard pool can become a beacon for relaxation.
Custom Pool Slides
Weeeeeeeeeeeeeeeeeeeeeeeee!
Sorry about that — we were enjoying one of our custom slides. A squeal often says more than words ever could, but we'll try our best to elaborate.
Every backyard is a little different. It's nice to have the slide options to match. S.R.Smith has a variety of customizable slides, featuring varied options for colors, textures and curves. The Build Your Own Slide 2™ custom pool slide, for example, includes nine color choices and up to seven available sections to combine for multiple configurations. Then there's our River Run Series, a collection of the most popular pool slide designs that our past customers have crafted. These slides can be pretty dynamic, delivering the endorphin rush that most staycations often lack. So c'mon, live a little!
In-Pool Loungers
Ultimately, staycations are about relaxing. And when it comes to relaxing, it doesn't get much better than in-pool furniture. If your pool has a sun shelf area with shallow water, S.R.Smith's in-pool loungers are a great option. These loungers rest partially submerged, so you can stay cool while kicking back. Our Destination Series Rocking Lounge Chair is ideal if you like a little movement. Whatever your preference, all our loungers are elegant, lightweight and sturdy.
Now, we don't suggest you swear off destination vacays entirely — Cancun is lovely, and who are we to deprive you? — but it's nice to have options. Turning your backyard into a mini paradise gives you a new avenue for relaxation, when you just don't have the wherewithal to book flights/hotels/etc. And when you do have the energy to plan a big trip, you'll finally have a perfect spot for that post-vacation vacation.