Swimming pools are so much more than a place to cool off in the summer. Today's pools are a focal point for the backyard. They offer something for kids AND adults with safety, style and ease of use in mind. Whether you are renovating an existing pool or planning for a brand new one, these design trends will make sure that your pool is modern and functional for the 2020s and beyond.
1. Show-stopper Lighting
Midday isn't the only time to swim. In fact, parents of splashy children know better than anyone that the pool is most fun after the sun goes down. Over the next decade, custom lighting options will make backyard pools into a day-or-night entertainment destination. Even when guests aren't swimming, the soft glow of the pool's adjustable lights and custom colors will ensure an undeniable ambiance and feeling of luxury. Today's modern pools include wireless lighting, LED pool lights that offer a range of colors or fiber optic lights to create dramatic star floor effects. See which lighting options are best for your dream pool.
2. Integrated Pool Furniture, Built for Relaxation
The kids are splashing, throwing inflatable balls and laughing. But there's more than one way to enjoy the water. Mom and dad can relax under an umbrella in integrated loungers, a perfect add to any sun shelf or beach-entry. While this may have been a resort-only experience in the 2010s, the 2020s will bring this design to backyards across the country.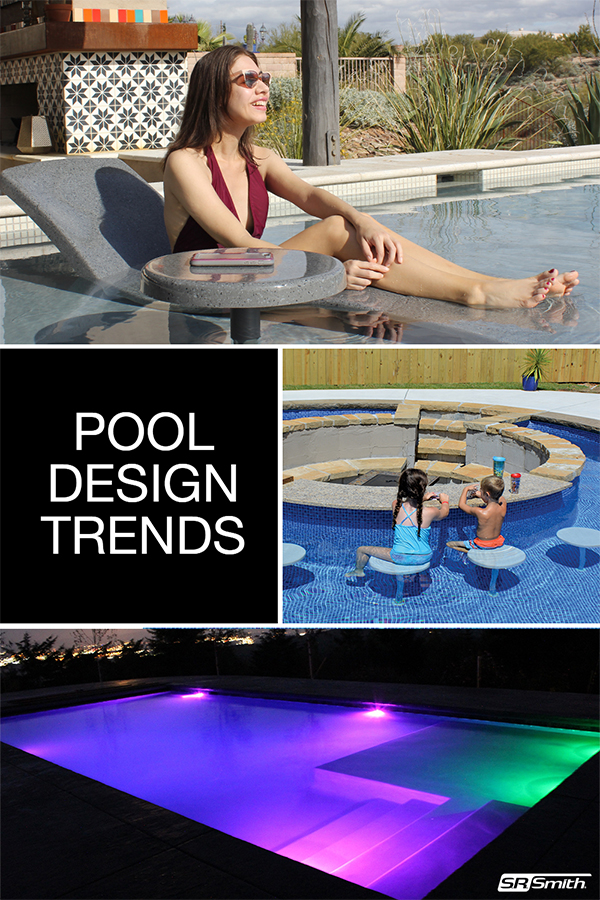 The Destination Lounger™ is the perfect way to relax in your backyard. It's even easy to remove when you want to make more room for fun. Pop in a table for your drink and an umbrella for the sun… you may never sit in your living room recliner again.
3. Modular Family Fun
Modern backyards are built for every occasion and poolside space can be a valuable thing. A minimalist layout may be the perfect option for a backyard dinner party, allowing your pool to be a statement piece. But when the neighborhood kids are over, it's time to roll out the slide. Removable, modular fun is the future for your flexible backyard experience. Discover SlideAway™ the removable pool slide – a simple and fun addition to any modern backyard.
4. Swim-Up Bars and Seating
When your parents would host their neighborhood summer barbecue, it was a sea of Hawaiian shirts, khaki shorts and lots of standing around. Today, there's a cooler way to throw a party. Literally. Swim-up bars are changing the game for backyard entertainment. Throw away the dress code for your next barbecue or just enjoy the in-pool seating on your next lazy weekend. It's easier than you think to add a bar and a few stools to your pool design. Work with your dealer to take your pool to the next level.
5. Focus on Fitness
Water sports are among the best ways to get your heart pumping with low-impact on your joints and full-body engagement. Your pool can be more than just a great place to relax. Exercising in the pool can take on several variations, swimming a few laps, training for competition, or aqua jogging. Fitness can also be fun for the family with an in-pool basketball hoop or volleyball net.
Getting ideas yet? S.R.Smith offers top-of-the-line pool products that integrate seamlessly into your backyard pool setup. Browse our line-up and work with your pool designer to create a backyard oasis that is undeniably modern and exciting.