Placement of the diving board jig for vinyl liner pools must meet placement specifications outlined in ANSI Standards.  As a service to professional builders, S.R.Smith will review dig specifications provided by industry professionals and provide guidance on proper jig placement in accordance with the standards.
NOTE: Proper jig placement and installation is the responsibility of the builder/installer. S.R.Smith accepts no liability for incorrect placement or installation of diving boards.
Please confirm the following dimensional information of your dig specifications that will be used in determining the placement of the jig.
The diagram of a general vinyl liner layout below indicates the dimensional information referenced in a through W. All dimensions to be entered in inches.
A = Horizontal length of the back-wall slope
B = Vertical change from start of slope
C = Depth at the start of the back-wall slope from waterline
D = Original hopper length
E = Horizontal length of shallow end slope
W = Pool Width (see Minimum Diving Water Envelope in Tech Guide or Install Manual)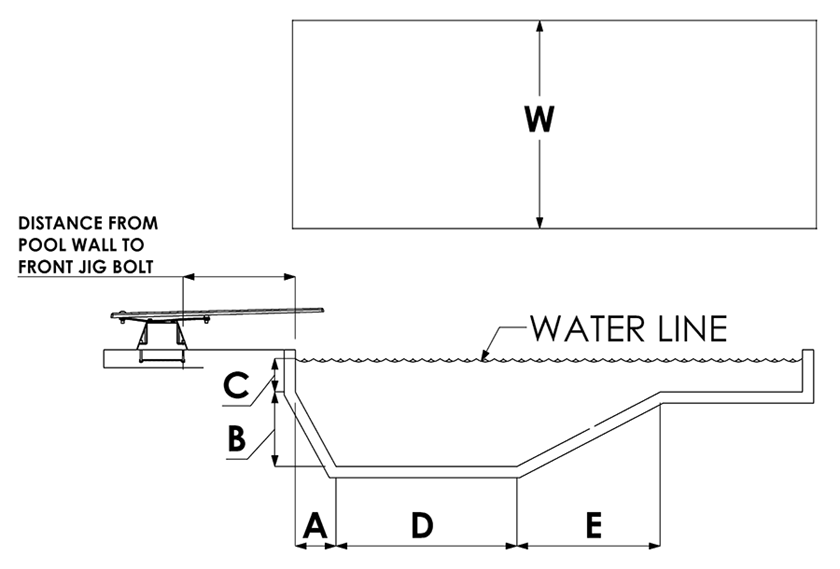 ---
CONTACT INFORMATION
---
You entered the following dimensions (in inches):
Customer Name = {{customerName}}
A = Horizontal length of the back-wall slope: {{a}}
B = Vertical change from start of slope: {{b}}
C = Depth at the start of the back-wall slope from waterline: {{c}}
D = Original hopper length: {{d}}
E = Horizontal length of shallow end slope: {{e}}
W = Pool Width (see Minimum Diving Water Envelope in Tech Guide or Install Manual): {{w}}
Base & Board = {{baseAndBoardName}}