Be honest. How many evenings do you spend in your backyard per week? If you're like most people, your backyard can go unvisited for a week or more at a time. Maybe you're bingeing a show, busy with chores inside… or maybe the grass needs to be mowed and you just don't want to think about it.
Today, your backyard is more important than ever. As COVID-19 looms over spring and early summer, families are returning to their backyards and finding that they have a forgotten getaway just out their back doors. Here are five ways that you can enjoy your backyard during stay-at-home regulations and long after they are lifted.
1. Get a workout in
Hiking trails are crowded and dangerous and gyms are closed. But don't worry, there is an endless list of workouts you can enjoy in your backyard. From relaxing yoga on your grass to water aerobics in the pool, transform your backyard into fitness destination with online classes and rubber mat.
2. Breathe in the fresh air
Too much time indoors can begin to feel suffocating. Rather than plopping onto the couch after work, take 15 minutes outside to watch the sunset and breath the fresh air. You'll be surprised by how refreshed you feel after just a few minutes without walls.
3. Tell your stress to "float on"
There are very few things more relaxing than closing your eyes and floating in your pool. Wait until the kids have gone to bed to go for your own evening dip and feel the stress float away into the gentle ripple of your backyard oasis.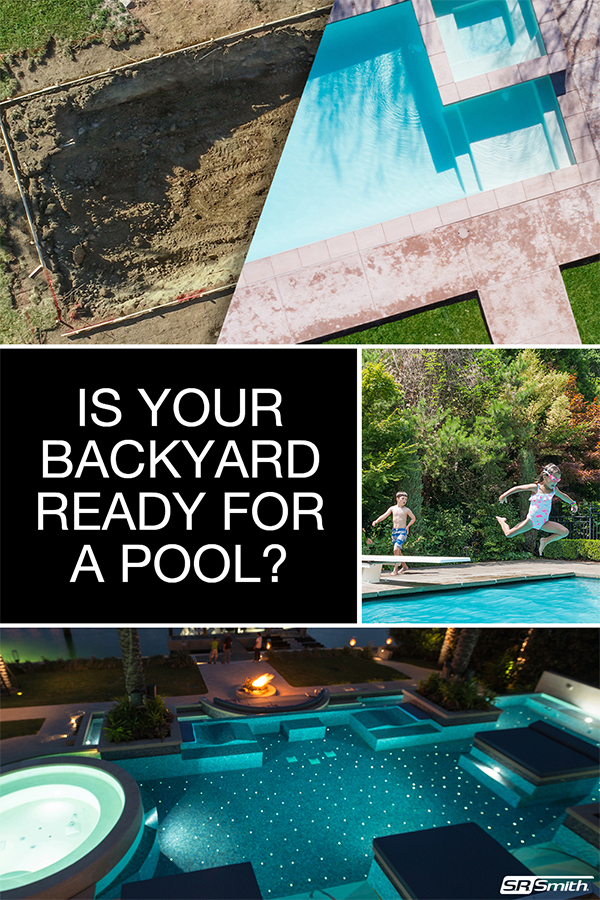 4. Play a game with the kids
You can only say it so many times - "No running in the house!" Next time, open up the back door and take the fun outside. No matter what age or number of kids, there is a backyard activity for every family. Just 30 minutes of backyard exercise is enough to buy you a few hours of gentle indoor behavior.
5. Hey, there's Wi-Fi back here!
Your home office isn't your only productive space. As temperatures warm up, take your work-from-home setup outside and get your daily dose of vitamin D while you finish up those TPC reports.
How are you enjoying your backyard? Share photos from your own poolside escape on Instagram, Facebook and Twitter using #backinthebackyard for a chance to be featured in our Back in the Backyard campaign. Visit srsmith.com to find furniture, equipment and products that will take your backyard pool area to the next level.