As a result of COVID-19, you may not be able to make it to your gym, park or favorite trail. But you don't have to leave your house to get a great workout. In fact, your backyard may be just what your workout routine was missing.
1. Start small
Whether you are a veteran athlete or getting moving after a long break, you will find more success and motivation with achievable goals. Make day one of your new routine enjoyable so that you finish your workout feeling confident and excited for the next session.
2. Challenge your friends and family
Inject a little competition into your workout routine and watch your motivation skyrocket. With simple rules and regular sharing, you and your friends will keep each other engaged. If competition isn't your thing, set a shared goal with your friends. Work toward it together and celebrate each other's daily success.
3. Join virtual workouts
With COVID-19 keeping us out of gyms, virtual classes are growing in popularity. Search on YouTube for a class at your level and give it a try. Bring your iPad outside, turn up the volume on those headphones and get to work!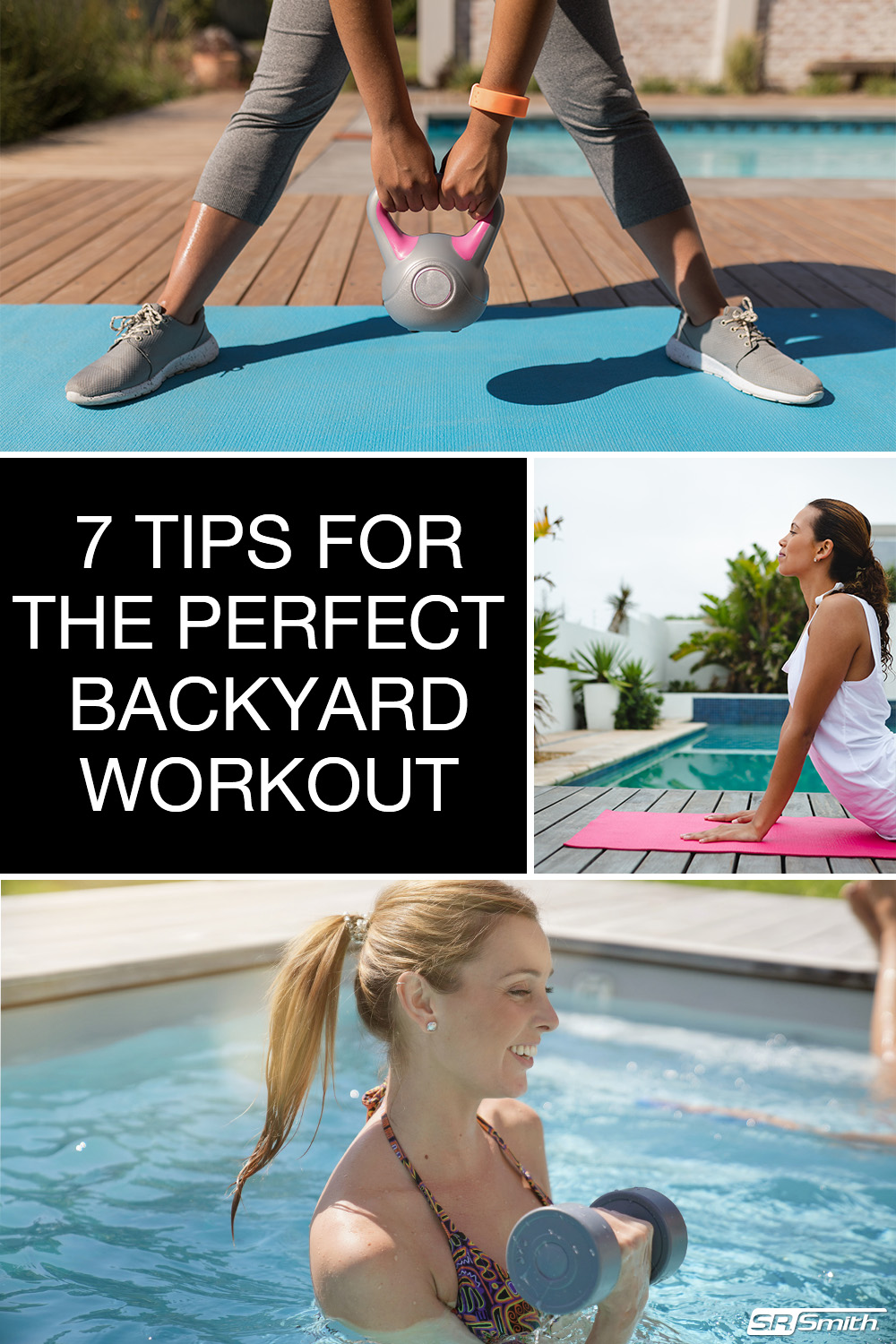 4. Make it fun
As fun as crunches and push-ups are, you'll smile more with a creative workout plan that gets you moving in different ways. Try setting up stations and putting your circuit training to an upbeat playlist. Get your (older) children involved. Give each day a theme. Buy a new workout outfit. Whatever it takes to get you excited!
5. Set a time
Without a schedule, it will be too easy to "do it later." If you are working from home, take time off during lunch to break up the day with an energizing workout. Just 15-20 minutes of activity will make going back to work much easier.
6. Do what your yard does best
Backyards come in all shapes and sizes. It doesn't matter if you have acreage or just a few square feet, your yard is perfect for your next workout. If you have a long pool, laps are a great way to push your heartrate. Small shallow pools are ideal for water aerobics.
7. Make yourself accountable
Even the most motivated individuals might need a little outside pressure to get out for some exercise. Post your plan on social media and share your goals for activity. If that's too public, hang your plan on the fridge for everyone to see. Tag us on Instagram, we'll cheer you on! Get moving in your backyard!
Share photos from your backyard dojo on Instagram, Facebook and Twitter using #backinthebackyard for a chance to be featured in our Back in the Backyard campaign. Visit srsmith.com to find furniture, equipment and products that will take your backyard pool area to the next level.