S.R.Smith celebrates its 90th anniversary this year. That's right, we've been in business for almost a century! A lot of things have changed since our inaugural year in 1932. But just like back then, we're still committed to giving customers the best swimming pool experiences available. And we've got the history to prove it.
To commemorate this special anniversary, here's a timeline of major events in S.R.Smith's 90-year history. Let's dive in!
1932: S.R.Smith splashes into business. The company was founded in Portland, Oregon by our namesake, Samuel R. Smith. And our first product? Springboards made from Douglas Fir trees.
1953: Business was booming, so we moved our headquarters to Canby, Oregon — that way we'd be closer to the wood sources we used for pool equipment.
1960: Samuel R. Smith sold the company to Rene Dupont. But, of course, Smith's name remained—and so did his legacy of quality and innovation.
1966: An unexpected fire destroyed the S.R.Smith factory. But don't worry: We quickly sprung back into operation in only two weeks!
1981: We acquired Swan Manufacturing, which made ladders and rails —because jumping into the pool is fun, but sometimes it's nice to just gently ease your way in. Throughout the 1980s we also added pool slides to our product lineup.
2005: S.R.Smith introduced its first-ever line of rotomolded pool slides. Let the modern pool age begin!
2009: Modern pools means improved access for all people — so S.R.Smith acquired Rehamed International, a global leader in battery-powered pool lifts for accessibility.
2010: The world loves pools. And in 2010, we expanded our reach to share quality pool products with more people by launching a bonded distribution center in Brussels, Belgium.
2013: We brought S.R.Smith products to even more people by acquiring Anti Wave Australia, a manufacturer of competitive swimming and water polo equipment. (Of course we love lazy backyard pool days, but we are all about swim meets too.)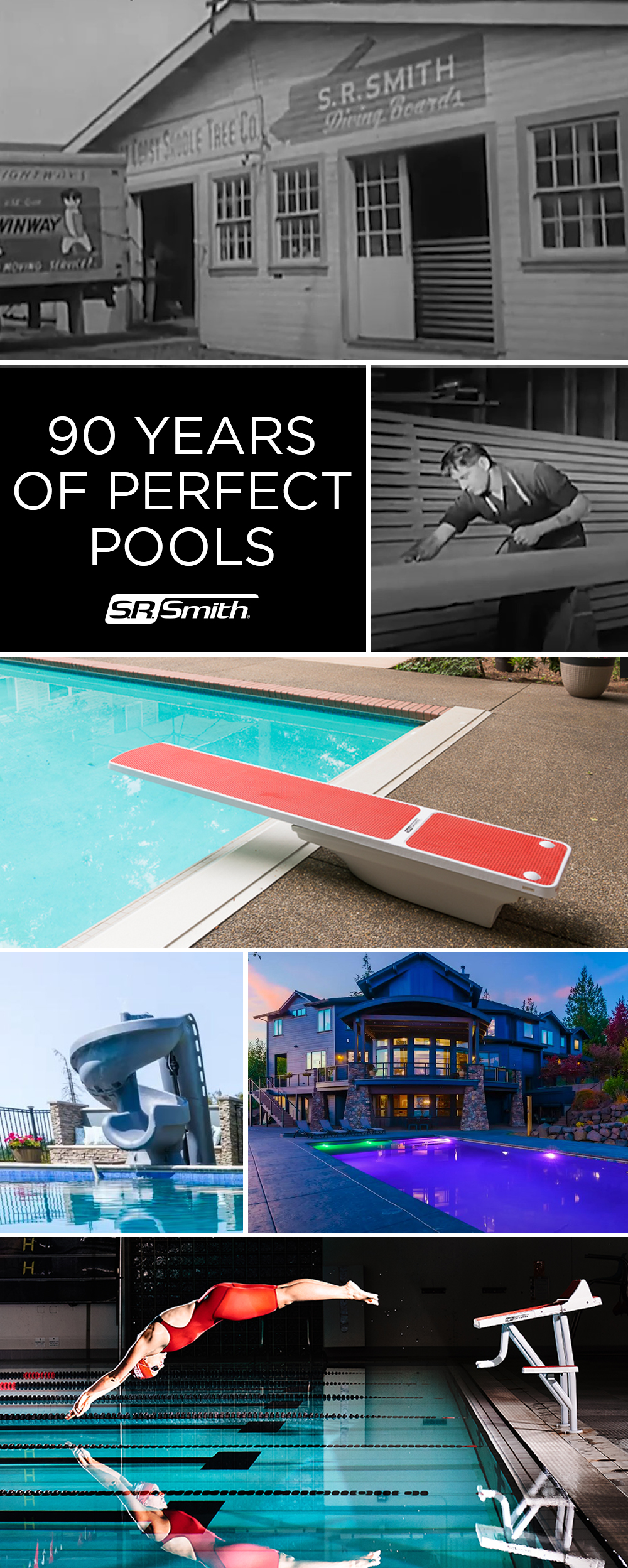 2013: Another important purchase for us: Fiberstars, a provider of residential pool and spa lighting products. Because after all, the perfect pool day includes the nighttime!
2018: S.R.Smith acquired certain assets of InterFab, which manufactures in-pool furniture and residential deck equipment including custom pool slides.
2021: Fluidra, a leading global pool and spa manufacturer whose portfolio includes industry-leading names like Jandy®, Polaris® and iAquaLink®, acquired S.R.Smith.
Our Next Chapter
Throughout our 90th anniversary, we're celebrating the milestone through our #perfectpoolday campaign. It's our way of remembering all the innovations that have made these past 90 years so spectacular —and we're so glad to have you here enjoying it with us. Whatever your perfect pool day looks like, we hope that S.R.Smith's products bring those pool days to life, so you can build your own special memories, just as we have since 1932.
We're also eager to see this next chapter in S.R. Smith's continued evolution. What will our next 90 years look like? It's hard to predict, but since we know that pool days never go out of style, here's to another nine decades. We'll see you in the pool!