How to Care for Your In-Pool Furniture
Your pool can be a vacation in your own backyard - at any time of day. Luxurious loungers, in-pool tables and seating are an integral part of your backyard getaway. Staying on top of periodic maintenance of your in-pool furniture will ensure it is clean and ready for use anytime you are ready to unwind. Check out the below tips to help keep your R-Series or Destination Series of in-pool lounger, table and seating protected from the elements and looking like new! 
Cleaning Your Pool Furniture
Wash your in-pool chair, lounger and table monthly or as needed using a mild soap and soft cloth.
For your safety be sure to keep cleaning materials from entering pool.
Warnings and Considerations
Be sure to take these precautions when determining what you use to clean your in-pool furniture. This will help keep you and your S.R.Smith product safe.

Do not use abrasive cleaners, bleaches, chlorines, high alkaline or strong acidic cleaners.
Do not use steel wool, wire brushes, metal scrapers, Scotchbrite or other abrasive sponge pads that may scratch your S.R.Smith in-pool furniture.
WAX for a Sparkling Finish
Keeping your Destination Series of in-pool furniture's gel coat finish coated with wax is the best way to prolong its life.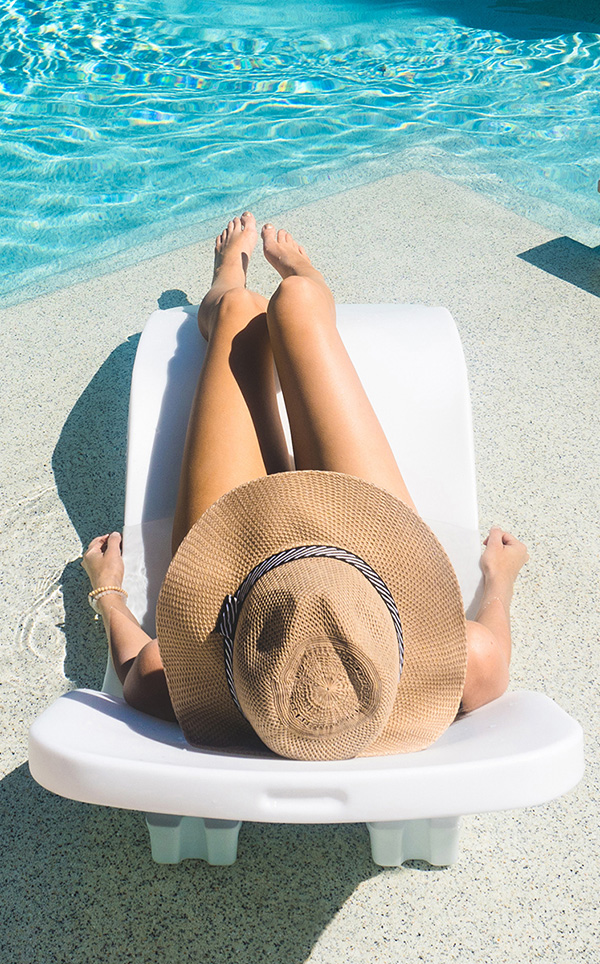 Choose a wax intended for use on gel coat surfaces. Preferably one designed for use in a Marine environment.
Test product on small inconspicuous section of the in-pool lounger, table, or seating prior to full application.
While application instructions will vary between brands of wax, in general you apply the wax with a cloth or foam pad using circular motion. Once wax dries to a haze, buff the excess with a soft dry cloth.
Routine waxing will maintain the smooth reflective surface of your Destination Series in-pool seating, table or lounger. Consider waxing your in-pool furniture twice a year.
Now that your in-pool furniture is nice and clean it's ready for when you want to free yourself from distractions and enjoy your backyard retreat! Looking for other ways to enjoy your pool both day and night? Check out other great residential pool products from S.R.Smith.