Pool Slide Cleaning and Maintenance Tips
S.R.Smith swimming pool slides will not fade and will provide years of fun for your family with the proper maintenance. Below is a guide to recommended daily and weekly pool slide maintenance to keep your pool slide looking great for years of sliding fun.
DAILY/WEEKLY MAINENANCE OF YOUR POOL SLIDE
When hosing down your deck, rinse your pool slide free of any dust, dirt or other debris that may have accumulated.
Be sure all connections are secure, and tighten hardware if necessary.
NOTE: "Intended Use" and "Warning" labels should be maintained. If they become faded or unreadable, they should be replaced. Additional labels are available from S.R.Smith upon request.
All polyethylene parts require little maintenance. Hose and wipe to clean.
While cleaning the pool slide, check and see that all nuts and bolts are tight and secure.
Inspect the slide's runway for visible cracks or tears, sharp edges and protrusions.
Inspect all attachment points for loose or corroded fasteners.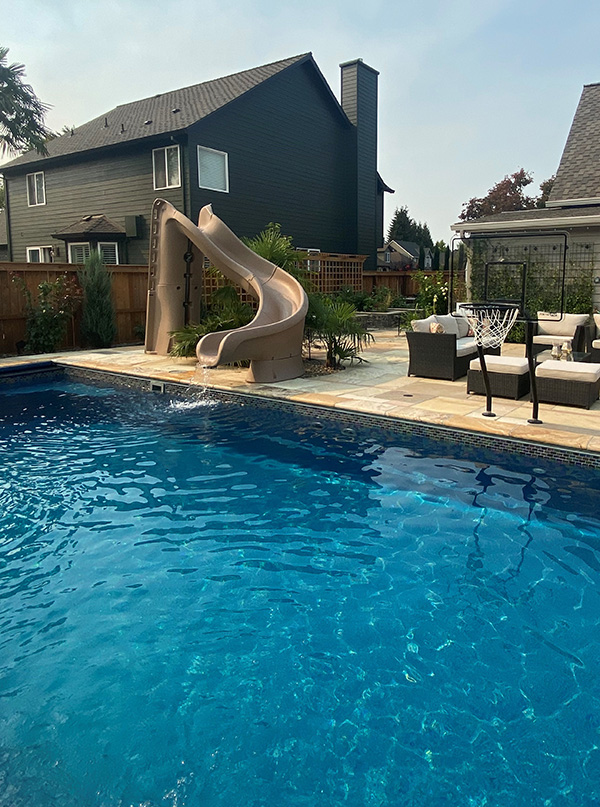 Inspect all ladder tread or step-attachment points for evidence of shear, bending yield, or fatigue in the ladder steps, rails, or attachments means. Yield is evidenced by crystallization or fine cracking of the ladder tread and/or surface.
Inspect the ladder handrails for rigidity and attachment
How to Clean YOUR Pool Slide
When possible use a non-abrasive soap and water to clean your pool slide. Always try a test spot of a product before applying to a larger area and read the label instructions on any cleaner carefully before applying it to the slide.
Selecting Proper Cleaning Products
YOU MAY SAFELY USE: Windex with Ammonia®, Formula 409®, Fantastik®, Soft Scrub®, Scrubfree, Tackle®, Grass Plus®, Topjob®, Tilex®.
DO NOT USE: Dow with Scrubbing Bubbles®, Lysol® Disinfectant, Ajax® Cleanser, Windex® with vinegar, White Cap®, Ajax® Liquid, Soft Scrub®.