Contrary to popular belief, the name "stainless steel" doesn't actually mean it won't stain! While stainless steel does not readily corrode in water, a pool environment is a particularly harsh environment. Staining and corrosion of stainless steel pool rails can occur unless the rails are properly cared for. However, with regular care and maintenance, your pool rails will stay beautiful for a long time.
Factors such as whether the swimming pool is indoor or outdoor, in a coastal area, or uses a traditional versus a salt chlorinator, all contribute to how quickly your pool rails will start to discolor. The following is a suggested maintenance schedule for your pool rails.
Maintenance Schedule for Stainless Steel Rails and Ladders
| | |
| --- | --- |
| Daily | All stainless steel pool rails should be rinsed with fresh water each day. |
| Weekly | Wash all surfaces with fresh, warm water and a mild soap. Our recommendation is Bon Ami. |
|   | Use a soft cloth to gently scrub stubborn spots. |
|   | Rinse thoroughly with fresh water. |
|   | Dry completely with a soft cloth. |
|   | Optional: Apply a thin layer of a high-quality automotive wax for added protection. |
| As Needed | Remove any visible signs of rust or staining with a nylon brush. |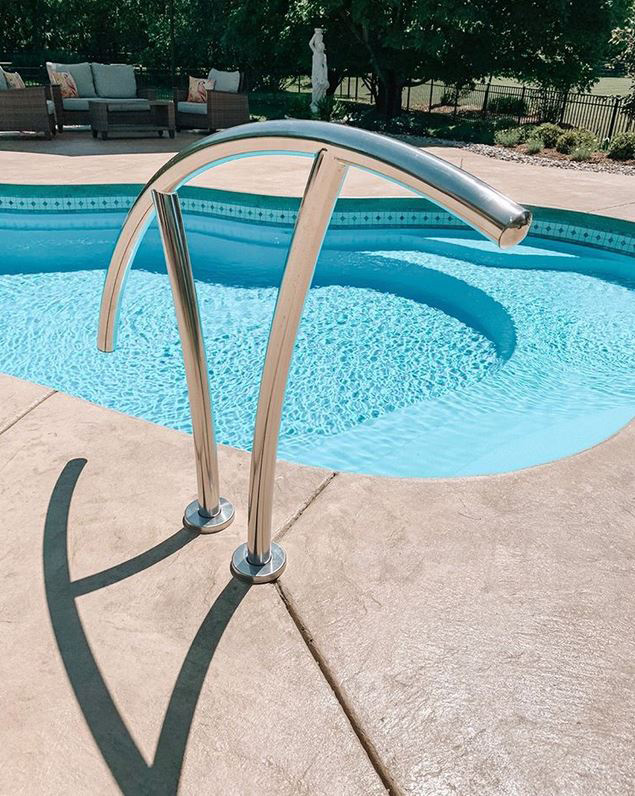 Choosing a Cleaning Product
Steer clear of cleaning products containing chlorides, abrasive cleaners and steel wool. These products will damage the surface and leave it more susceptible to staining and corroding. We recommend Bon Ami to clean your stainless steel surfaces.
Other Pool Rail Options
While stainless steel is the most common type of pool rail, there are some newer finishes that offer even greater corrosion resistance.
The first is powder coating. Powder coating is applied to the stainless steel as a dry powder then baked to create a durable finish that is corrosion and scratch resistant. Powder coating comes in many colors, allowing your pool rails to be matched your other pool elements such as decking or landscaping.
The second option is vinyl-coated rails or SealedSteel® salt friendly pool rails and ladders. These rails are the absolute best for salt chlorinated pools. They are fully encapsulated in a vinyl coating with no exposed metal. The vinyl coating has the added benefit of staying cool in hot temperatures, making them popular in the southern states.
Powder coating and SealedSteel® may be available on various S.R.Smith pool ladders and rails so be sure to look at the specific offerings listed on each pool rail or ladder product page.
Regardless of which type of pool rails you choose, each require at least some regular care and maintenance to keep them looking their best.