We can all agree, 2020 pool season has kicked off like none other. Laying out and enjoying your pool alone is fine, even relaxing, most of the time. But, if you're a social butterfly feeling stifled by isolation, don't worry because you can still spread your evenly tanned wings and fly. Here are 6 easy tips you can make a splash and to throw an unforgettable virtual pool party.
1. Test your backyard Wi-Fi
Don't burn through data or suffer buffering and blurriness due to a "weak signal." Test your Wi-Fi signal backyard by making a few calls to family before you invite the whole gang. You can also test your upload and download speed with sites like speedtest.net. Logging a dozen or more people onto a video call can demand decent bandwidth, so be sure you're ready.
2. Set the time and share a link
Tools like Skype, Zoom and FaceTime have blown up in recent months. If teachers are able to make a virtual classroom work, then surely your virtual pool party be a success as well. When you send your invite, you'll need to provide a link so that all your attendees log into the same room. Depending on the tool, they may need to download something prior to your event. Make sure you provide basic instructions so there are no major barriers to logging on.
3. Share recipes
Your signature jalapeño cheddar nachos are a mainstay, and let's be honest, the people are crying out for the flavor. Send a few of your favorite recipes and drink mixes beforehand to make the experience feel more connected and shared.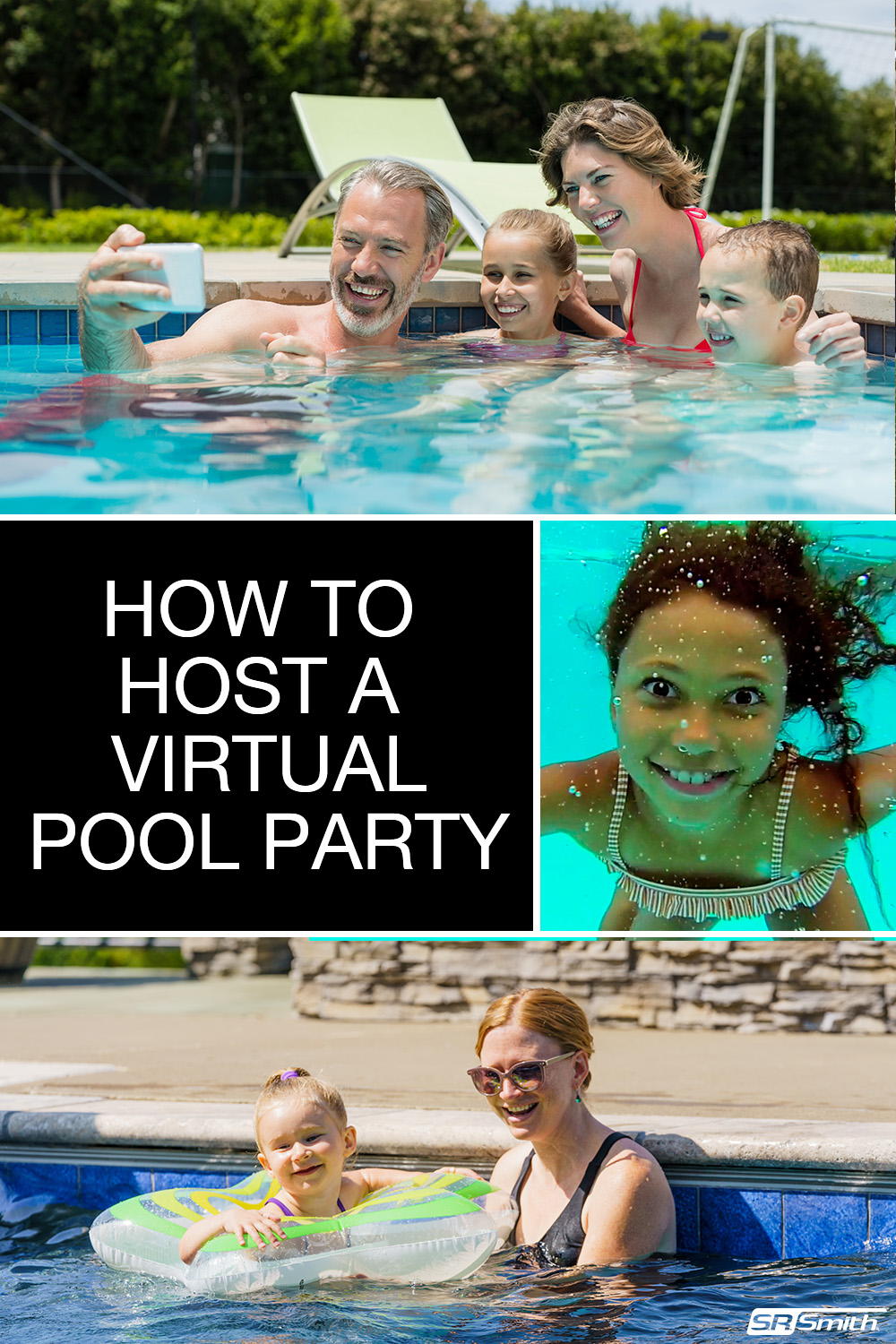 4. Give it a theme
This isn't your coworker's 5pm Happy Hour staff meeting. Your pool parties are legendary and that means picking a theme. From Space Pirate to Zombie Island Luau, there's no theme too wild for your group. You can even communicate your theme with a custom designed electronic invite. Encourage costumes, food and music to go along with your theme. It will make everyone feel like part of it.
5. Keep the party rolling with social sharing
When you log off, the party isn't over. Send a challenge to your attendees before or after the event using a custom hashtag. Maybe it's a dance challenge, a cook-off or a competition to see who can do the best splash-less dive. Kick off the week of the party with a social post, tagging all the attendees and challenging them to do it better (include #backinthebackyard and tag @srsmith so that we can join the fun).
6. Go big. Or don't!
It's your virtual pool party, you can try if you want to. It's up to you to make it as epic or low-key as you want it to be. Think about the people you're inviting and plan something they would love. In the end, this is about spending time with the people you love. The most important thing is getting people to sign on.
We can't wait to see what you put together. Take plenty of photos and use #backinthebackyard to show the world how you celebrate. Browse our products to discover products that will make your backyard really shine, from pool slides to pool lighting and in-pool furniture.