While Memorial Day and the unofficial kick-off to summer are approaching, chances are you haven't put much thought yet into opening your pool for the season. Well, this year is the year that you will be prepared and ahead of schedule! If you live in a region that experiences harsh winter weather, pool opening takes a little more thought, time and effort than for those who are fortunate to live in temperate climates. The following is a suggested checklist of activities to help you get your pool up and running in no time. If you have any concerns about your swimming pool water chemistry, or the safety of your pool equipment, please contact a qualified pool professional in your area.
Start by removing any debris that has accumulated on the pool deck throughout the winter. Having leaves, sticks and dirt blowing in to the pool you are trying to clean will only slow you down!
Once your pool deck and surrounding areas are free of debris, remove any water or debris that has collected on your pool cover. For volume, you can use a sump pump, but if there isn't much water, a simple siphon will work well. Thoroughly clean your cover and allow it to dry completely before storing it properly.
If your pool lights were removed from their niches during pool closing, raise the underwater lights from pool bottom and install them back in their niches.
Raise the pool's water level back to halfway up the skimmer opening.
Reconnect all of your pool's operating equipment, like the filter, pump, heater, and pool cleaner. As you reconnect each piece, briefly inspect components to make sure they are in good condition. At this time, you can also re-install pool ladders, diving boards and other deck equipment you may have removed when you winterized your pool.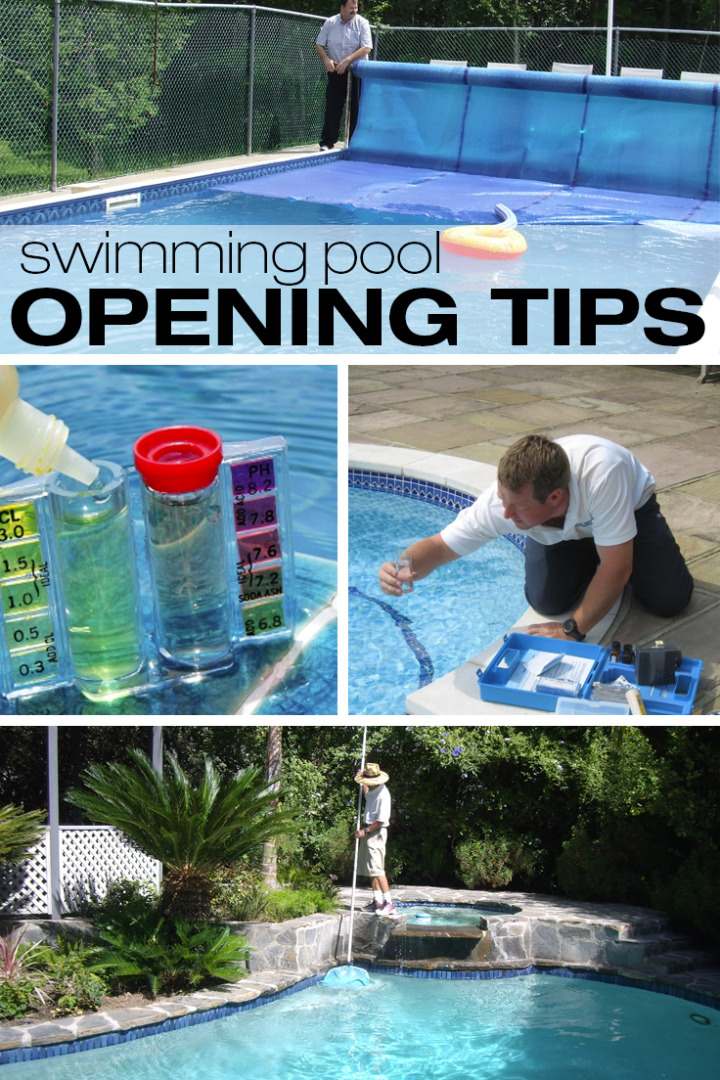 If you used winterizing plugs in your drain lines, now is the time to remove them and replace with in-season drain plugs.
You are just about ready to flip the switch and run the filtering system, but before you start pushing water through, it's a good idea to brush and vacuum the pool thoroughly to avoid clogging the filter with any remaining debris.
You are almost done! It's time to start the pump (depending on the make and model, it may need to be manually primed) and pool filter. Let the water circulate for about 24 hours.
At this point, some professionals recommend shocking the swimming pool prior to doing an initial water chemistry test. Others start by testing the water chemistry with a test kit, and adjusting the water chemistry based off of the results. For specific questions regarding water chemistry, please get in touch with your local pool professional.