A backyard swimming pool can offer decades of fun, thrills and joy to families who own one. Nothing compares to the exciting poolside activities that occur as friends and loved ones gather together to share quality recreation time. But pool ownership also comes with a responsibility to be safe at all times.
At S.R.Smith safety is our highest priority, so in recognition of National Drowning Prevention Month in May, we wanted to share these suggestions to help keep everyone safe in and around the pool.
SUPERVISION
Keep a close watch on children and ALWAYS know where they are. Never leave kids unattended, even when lifeguards are on duty.
Tell your child's caregiver or babysitter about potential pool hazards, emphasizing the need for constant supervision at all times. This applies especially to infants and toddlerswho should always be within an arm's length, creating "touch supervision.
Identity a "Water Watcher." This is someone besides yourself whose duty it is to constantly watch over children who play in or near water. The Water Watcher should never use a phone, read, do housework or yardwork, or be distracted in any way. Ideally, this person would also know CPR and have basic swimming skills.
Remember: flotation devices like "water wings", "floaties" or other inflatable toys are not a substitute for adequate supervision. They can give a false sense of safety and should only be used when an adult is also present.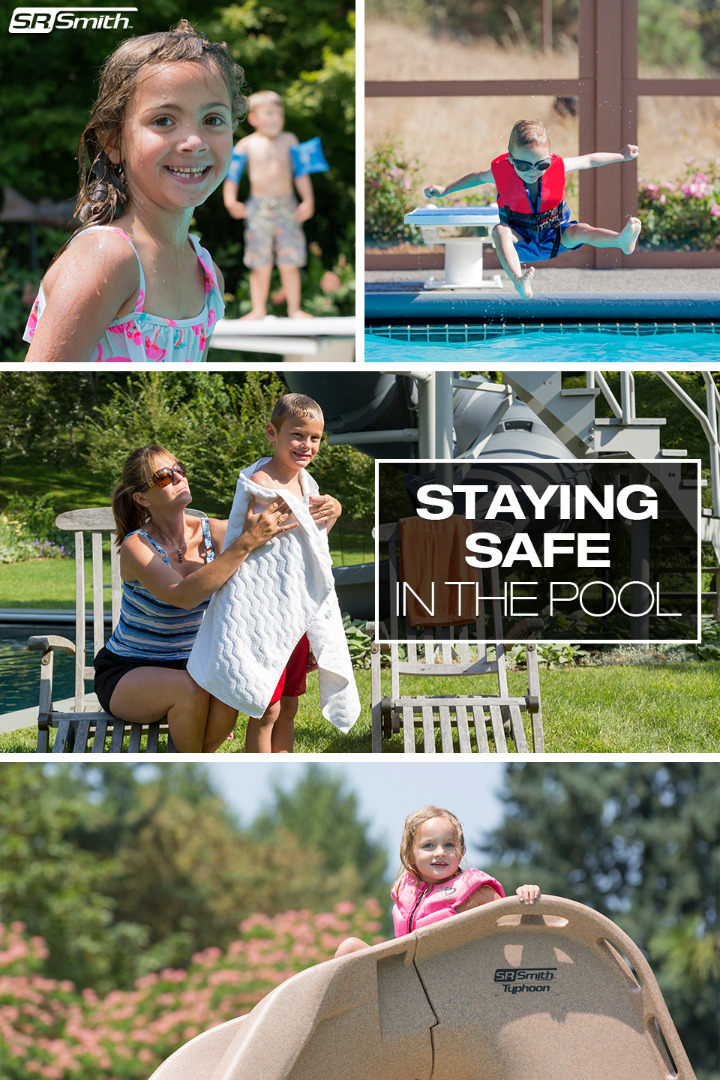 FENCING BARRIERS
Surround your pool with a minimum 5-foot high fence or barrier with a self-closing, self-latching gate. The gate latch should be out of the reach of children, and at least 54" from the ground.
All fences must be non-climbable, meet all applicable local safety codes, and have vertical bars set close to one another so that a small child cannot squeeze through (no more than 4 inches of space). Make sure horizontal bars are far enough apart that they cannot act as a "ladder" to climb over.
Consider "isolation fencing" which completely separates the pool or spa area from the house or other structures. An isolation fence restricts unauthorized access from neighbors' yards, other nearby buildings, and from inside the house. Isolation fencing is the preferred configuration for pool and spa protection.


ADDITIONAL BARRIERS

Place a safety cover on the pool or hot tub when not in use. Choose a cover that meets the ASTM International voluntary standard F1346-91. Go a step further, and think about installing a pool alarm that will sound when anyone enters the pool.
Ensure everyone in the home knows how to swim well by enrolling them in age-appropriate water orientation and learn-to-swim courses.
Above-ground pool ladders, when not in use, should be secured and locked, or removed. Ladders should never be accessible to children without adult supervision. Keep anything that can be climbed, such as chairs, tables, storage bins, playground equipment, ice chests, etc. inside the fence area.
Keep trees trimmed so that children cannot use them to climb over a pool fence. Do not plant trees close to the pool fence area.
Most importantly, never swim alone or drink alcohol excessively when swimming or engaging in recreational water sports.
For an expanded and detailed set of recommendations, visit the National Drowning Prevention Alliance website.
Following these safety tips can ensure that good times continue whenever – or wherever – seasonal water activities take you.