When planning and designing your swimming pool, there are many aesthetic elements to decide on; decking materials, coping, pool tiling or liner patterns, lighting… the list goes on!  In addition to these hardscape items, your pool landscaping is a critical element to the overall look and feel of your backyard oasis. Landscaping can make your pool exotic, welcoming, lagoon-like or modern. 
Plants can soften the surroundings, add privacy, or provide shade. However, because pool environments can be harsh, special care must be taken when selecting plants that are closest to the pool and may come in to contact with pool water.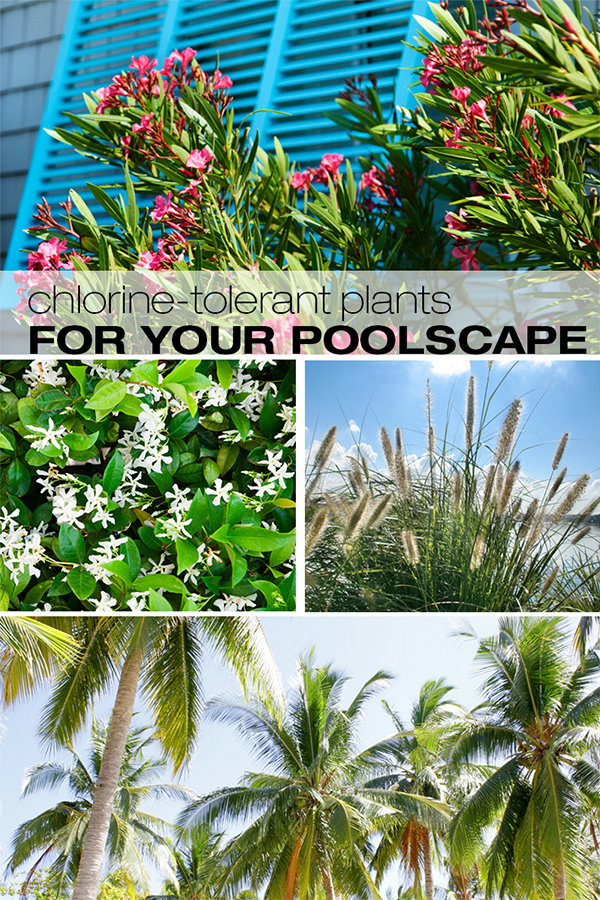 From tall trees to groundcovers, we've rounded up the best, chlorine-tolerant plants to put around your pool. As always, when selecting plants, be sure that they are recommended to grow well in your region.
Trees
Trees act as an anchor for your landscaping and provide much-desired shade. Palm trees, wax myrtle, yaupon (tree holly), devilwood, live oak, willow oak, southern magnolia, eastern red cedar and Siberian elm are all great choices.
Shrubs
Shrubs act as larger space fillers. Pool-friendly options include century plant, oleander, and hawthorn.
Ornamental Grasses
Some grasses can grow in clumps that are quite large, filling out your landscape nicely. The best grasses for around the pool are pampas, sea oats, maiden grass, Bermuda, and zoysia. Zoysia is particularly tolerant of salt, for those pools that are salt-chlorinated.
Vines
Vines can be great ground covers (when contained properly), or can even add privacy when used with a trellis.  Chlorine-tolerant vines include confederate jasmine, Carolina jessamine, honeysuckle, deep green ivy, creeping rosemary, liriope, and climbing fig.
If you have delicate plant species that you just can't leave out of your poolside landscaping, one option is to plant them in containers, being careful to gently rinse the plants with clear tap water from time to time.