A well-designed swimming pool can transform almost any boring backyard into a summertime oasis where family and friends can gather. But all that fun requires a serious investment of both time and money. So before diving in, here are some things to consider to help you decide where a pool fits into your life:
Why Do You Want a Pool?
There are many reasons for wanting a pool: personal or family recreation, exercise, physical therapy, entertaining, etc. Defining the "why" beforehand will help you choose the best location for your pool and decide on the style that meets your needs.
How's the Weather?
Depending on where you live, the weather can determine certain pool building decisions. People in colder regions should consider enclosures to prolong the pool season. In milder climates, swimming pool covers can slow evaporation, deter leaves and debris, or protect the pool when not in use.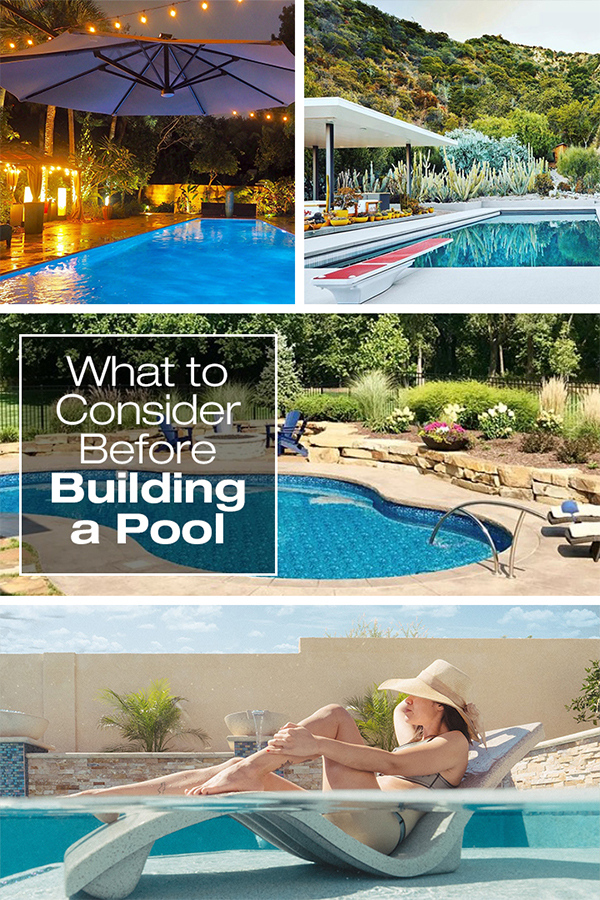 How Can a Pool Fit In Your Yard?
In addition to your yard's size, consider the slope, soil type and accessibility for construction equipment. Pools are easier to build or install when a yard is level. A pool professional will be able to tell you which shape would best suit your needs and whether or not it would actually be possible to construct a pool in your desired location.
What Type of Pool Is Best?
There are many ways to build a swimming pool. Some are made of concrete, others are made of fiberglass, and still others are vinyl. And that's just the first step. Also consider cleaning systems, filtering systems, artistic finishing touches like pool rails and ladders. Learning "pool language" will give you more confidence in the decision-making process when you talk to a builder.
How Should You Choose a Pool Contractor?
After you take the plunge, the best way to ensure a smooth building process is to choose an experienced pool construction professional. Check with friends, your local pool builders associations, even the Better Business Bureau. Interview several candidates and ask about their building philosophies. A reputable pool contractor will offer examples of his work, provide references, and be able to answer relevant questions.
What's Your Budget?
You probably already know what you're willing to spend on a new swimming pool.  Your pool builder can give you a better idea of what your project will cost. You may have to adjust your plans, or you may actually have the resources to make your initial concept a reality. Either way, your builder should know what your budget is from the start.
What Are The Finishing Touches?
Things like coping, decking, and borders can make a bold statement, helping your pool stand out. The materials used for each vary—stone, concrete, ceramic and glass tile—and each has its own merits. Discuss with your designer which options are right for you.
When Does the Fun Start?
As your pool nears completion, gather all those goodies that make pool ownership fun: toys, floats, swimsuits, patio furniture, you name it. Then throw a party to celebrate your new swimming pool in style.