Your friends have missed you. Chances are you've missed them, too. Summer is upon us, and that means reconnecting with family and friends. What better place to do it than a backyard pool party? From skincare to snacks to pool supplies, we've got some helpful hints for your ultimate "welcome back" pool party. Let's get to it.
Sunscreen
A pool party without sunscreen? We perish at the thought. Keep sunscreen handy for you and your pool guests this summer — their skin will thank you. Not all sunscreens are created equal. The Mayo Clinic recommends using water-resistant, broad-spectrum coverage sunscreen with an SPF level of at least 30. That sunscreen should be reapplied generously at least every two hours. If you're swimming or sweating, reapply at more frequent intervals. Sunscreen comes in sprays, gels, creams, lotions and sticks. Which is best? Well, that depends. Sprays are best for children, gels are best for hairy areas, creams are best for dry skin, lotions are best for large areas and sticks are best for around the eyes.
Snacks
All that pool partying really works up an appetite. Snacks will keep everyone in good spirits. First off, make sure you've got beverages — being submerged in water isn't enough to stay hydrated; you've got to ingest liquids, too. We recommend providing a few different beverage options, with varying sugar levels. For zero-sugar beverages, you can't go wrong with ice-cold water. For low-sugar options, there are sports drinks like Gatorade. For high-sugar drinks, you've got soda and certain alcohols. When it comes to pool snacks, give your guests a mix of carbs and protein. This'll supply nutritional energy that's both immediate and sustained. (Think trail mix, hot dogs, PB&J, oat muffins, etc.)
Games
A pool is pretty exciting on its own, but hey, why not spice things up with a few pool games? Of course, you can always opt for pool games that don't require gear, like Marco Polo. For games that include gear, Good Housekeeping recommends pool products like the Skip Fun Ball, Cactus Ring Toss and inflatable Poker Table.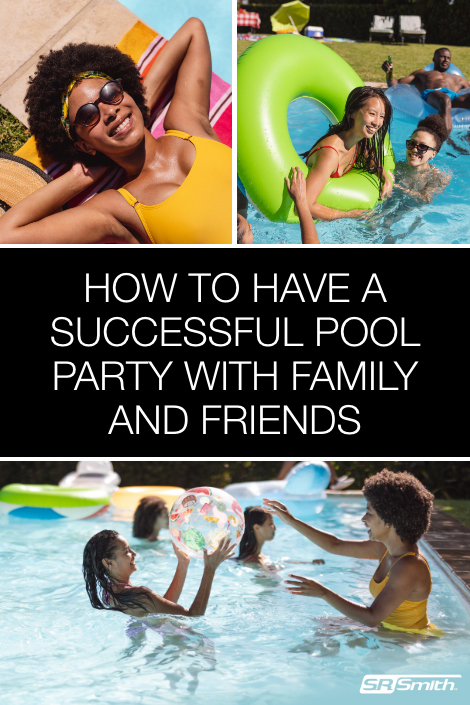 To really impress your guests, get an in-pool basketball hoop or volleyball net like those supplied by S.R.Smith. These hoops include reliable deck anchors and stainless steel frames. Some volleyball nets and basketball hoops are even have vinyl-coated making them ideal for salt pools.
Backyard Updates
Ultimately, pool parties are about relaxation. For ultimate poolside comfort, we recommend investing in some top-notch pool furniture. Take, for example, the Destination Series Rocking Lounge Chair, a supremely comfy in-pool recliner that's UV protected to resist fading. Backyard aesthetics also matter (and no, we don't mean your swimsuit). We're talking about pool lights. We're talking about water features. We're talking about custom slides. This is the stuff that turns your backyard pool space into a true oasis. At S.R.Smith, we've got the products you need for this kind of upgrade. Pool parties are where lasting summer memories are made. So let's get out there and make some memories.