Every backyard has potential. (Yes, that includes yours.) Within its borders, there are endless possibilities for entertainment, relaxation and exercise. Your backyard is, above all else, a space with promise.
Sometimes, though, a blank canvas can be daunting. Where do you start? With our help, you'll be able to transform your backyard pool space for any occasion.
Tip #1: Invest in Comfort
Without comfortable seating, relaxation is all but impossible. For the sake of you and your guests, invest in some top-notch poolside loungers. These loungers can be perfect for both solo nap sessions and group hangouts.
Take, for example, S.R.Smith's Destination Series Rocking Lounge Chair. This chair can be placed outside the pool, or slightly submerged on pool shelves with water depths up to 12 inches. As the latest addition to S.R.Smith's In-Pool Furniture line, the Destination Series Rocking Lounge Chair offers a slight rocking feature for an easier exit, is UV protected to resist fading, and comes in a variety of exclusive colors and visual textures. It takes pool relaxation to a whole new level.
Tip #2: Let There Be Light
Nothing sets the mood like proper lighting. When done right, good lighting can elevate a backyard gathering from humdrum to historic.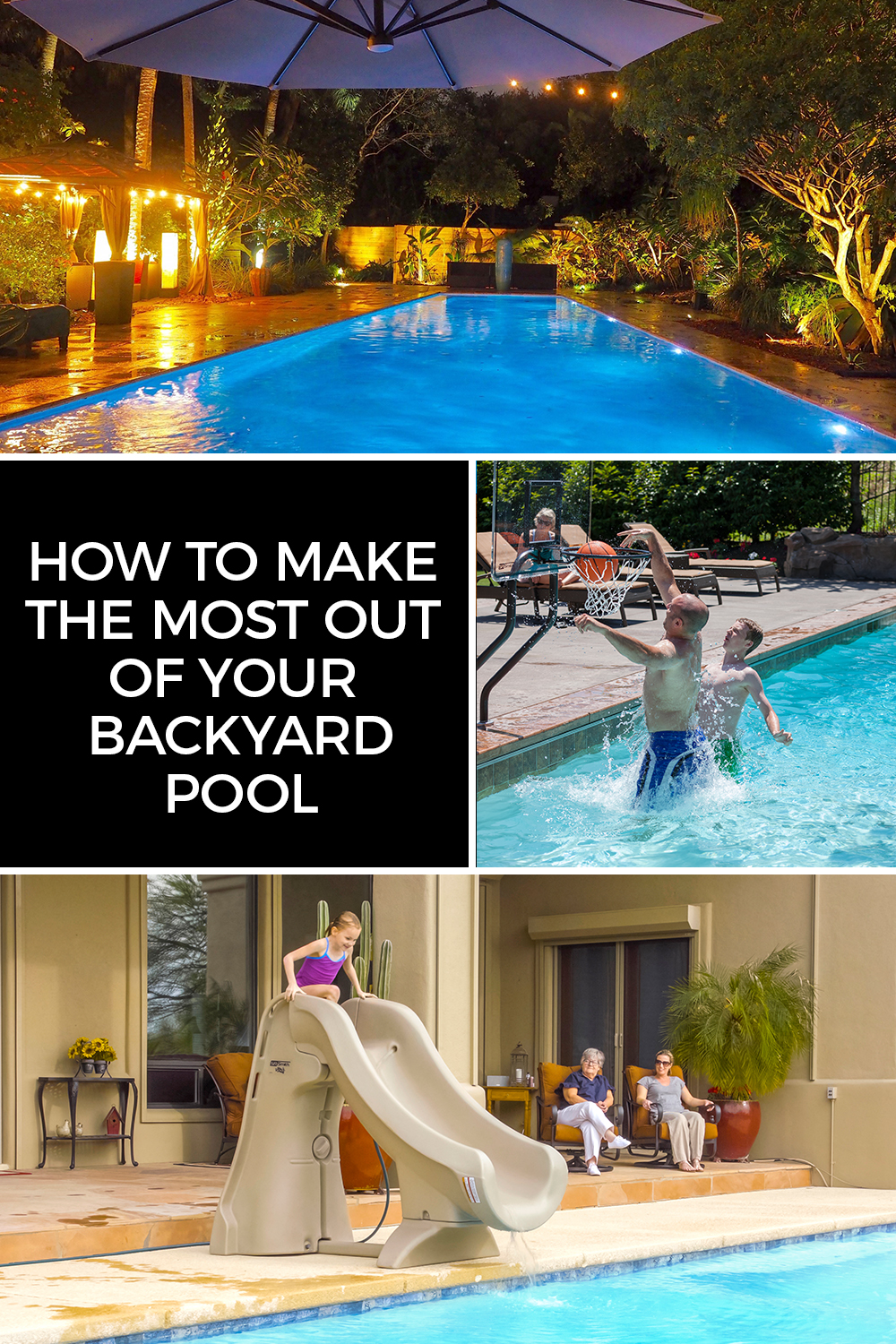 Your pool is the backyard feature around which everything else orbits. So effective backyard lighting begins here. There are numerous in-pool lighting options out there, but we recommend the Mod-Lite® with PowerPass® wireless technology. This new offering from S.R.Smith can be easily removed and replaced while it's still submerged in water, instantly syncing with the power source, and offers premium color customizability. It's all the dazzle and none of the hassle.
Tip #3: Slide into Summer
You ever see someone frown while sliding into a pool? We bet you haven't. A good time is practically guaranteed when there's a pool slide involved.
Adding a slide to your backyard pool is the kind of upgrade that'll have the neighbors begging to visit. Take, for example, the heliX2® pool slide, which sends sliders through a full 360-degree flume with a patented water feature. The SlideAway™ removable pool slide is also an attractive option, as it can be stowed away, rolled out and set up within a matter of minutes.
Tip #4: Game On
Swimming pool basketball — it's where legends are made. Whether you're unwinding by yourself after work or playing some rowdy weekend 3-on-3, a poolside basketball hoop is the kind of backyard upgrade that'll pay dividends for years to come.
S.R.Smith has all kinds of hoop options, depending on your specific needs. Salt pool? There's a hoop for that. Want to adjust the height? We've got a hoop for that, too. (And if you prefer in-pool volleyball, we've got you covered.)
Like we said before, your backyard is a place with potential. It only takes a few upgrades to turn it into the ultimate hangout spot. Comfortable seating, dynamic lighting, out-of-pool fun, in-pool sports — these kinds of additions go a long way. We can't wait to see your backyard reach its full potential.