Every homeowner has looked at their backyard and daydreamed where the pool would go and how it would transform the entire space and their life. Once the pool is in, your kid's friends will want to come over every day, you'll be the envy of every pool-less neighbor on your block, and your Instagram is going to blow up. But wait… Before you start buying waterproof sunscreen and a new selfie stick, you've got a little planning to do. Start with these five tips:
1. Know the rules
Each state, city and community is different. Check your local and state regulations on in-ground pool construction before you begin planning your new dream backyard oasis. Your Homeowners' Association may also have guidelines for what is allowed in your neighborhood. In addition to the pool itself, there may be rules about how and when the pool is installed.
2. Set a budget
Installing an in-ground pool can be a massive boom to your home's value and curb appeal. With savvy budgeting, you may see the value of your pool returned when you sell your home. But, just like any home improvement project, the budget can spiral if you haven't made a careful plan. Make sure that your plan includes accessories like ladders, rails and any pool access products that may be needed. Once you've set a clear budget that you and your contractor can agree on… put a little extra aside in case of the unexpected.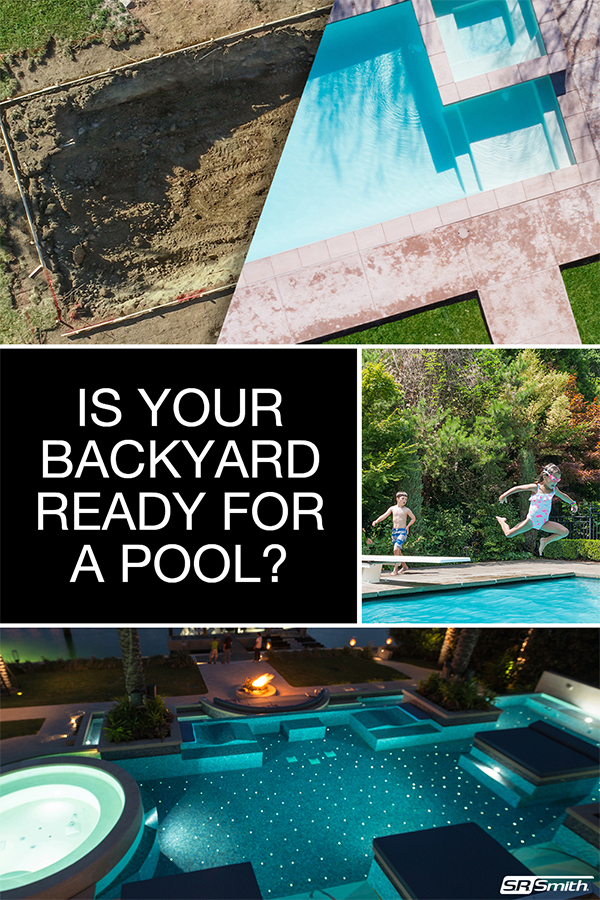 3. Safety first
Swimming pool safety is extremely important. Putting a fence or barrier around your pool is mandatory just about everywhere. When you plan your pool, make sure that your barrier includes self-closing, self-latching doors to prevent accidental access. Likewise, pet doors should be avoided, as small children may fit through the opening. Your contractor will have lots of beautiful and safe options for fencing from metal to glass and everything in between.
4. Plan for fun
You've made a plan for safety. Now let's have a little fun. The details are what separate a good pool from a great one. Talk with your family about additions that could take your pool to the next level. From basketball hoops to diving boards, pool slides and luxurious in-pool furniture, the sky is the limit for the fun you'll have in your new pool. Customizable lighting is another way to make your pool stand out and make the fun last even after the sun has set. Share links with your contractors to show them what you have in mind.
5. Look up. Look down.
Determining the pool's size and location depends on more than just how it will look in photos. Study the sun's path in your yard to determine where the optimal location is sunbathing and shade. Even more importantly, conduct a study of your yard to know where you can dig for a pool. With the help of professionals, you will determine where piping and electrical infrastructures may prohibit construction.
Don't let the red tape stress you out. Planning is half the fun. When you pick a great partner and quality products, putting in your new pool will be a breeze. A pool instantly transforms any backyard and creates a destination you can escape to in the privacy of your own space. Work closely with your contractor to make sure that your pool is everything you want it to be and then enjoy it for years to come.