Have you owned your pool for a long time? When you gaze across the water or look around the deck, does it feel like something is missing?
If you answered "yes," it may be time to make a change or two. A thoughtful and well-planned swimming pool upgrade can not only add value to your pool, but also transform a backyard into an eye-popping and relaxing sanctuary begging to be rediscovered.
Indeed, your perfect pool day is within reach, so let's prep your pool for summer! Here are some helpful ideas for that next aquatic facelift.
POOL LIGHTS ADD COLOR
If you're anything like us, you believe the perfect pool day doesn't stop when the sun goes down. Nighttime can be the best time for your pool to reach its full potential — and lighting is often the secret ingredient. A new set of LED or fiber optic lighting inserted directly into your pool's floor or walls can bring both your pool and landscape to life. If your pool uses old incandescent bulbs, that type of lighting lacks a certain wow factor, as well as energy efficiency. Modern LED pool lighting, by contrast, can last 20 times longer than traditional bulbs, shine brighter, and offer substantial long-term energy savings. Some LED systems also offer special "light modes" that you can easily customize — so when inspiration hits or the season changes, you can shift easily from one set of colors to another.
Pool SLIDES ADD FUN
The fastest way to upgrade any pool is to make it more fun. And what's more fun than a slide? Whether you're five or 50 years old, there's no better way to enter the pool again and again and again. Custom pool slides, built into the landscape are undeniable showstoppers. They transform the backyard into a private waterpark and add a dynamic element to the space. Deck mounted pool slides are simpler solution for permanent slide fun without the need for major landscaping. You can find all shapes and sizes, from classic curves to exciting spirals. Another great option is a removable pool slide, like SlideAway™, that can be rolled in when in use and stored away the rest of the time.
POOL RAILS ADD STYLE

Sometimes, a right angle isn't exactly the right angle. Rectangular pools can feel boring and out of date, but they don't have to be.
Our Artisan, Meridian and Designer Series pool rails create softer curves, bringing your pool into the 21st century. These rails come in a wide range of shapes and styles, and add a smart, sophisticated look to any deck. And better yet, both series are designed to retrofit easily with traditional pool railings. (Basically, it's a stylish way to get a grip on summer.)
You might also add a tanning shelf to the inside of the pool so you can soak up the rays, cool off, and relax in style.
POOL FURNITURE ADDS COMFORT

Go ahead, recline into summer! In-pool furniture is one of the best ways to ensure a perfect pool day. S.R.Smith offers a line of in-pool loungers, tables, and seating that stand up to salt, chlorine, and sun. And if you've got a large pool umbrella, we've even got a table that's designed to retrofit it. Available in 16-inch or 30-inch widths, and including optional cup holders, these in-pool tables create great conversation spaces when paired with our in-pool loungers or rocking loungers.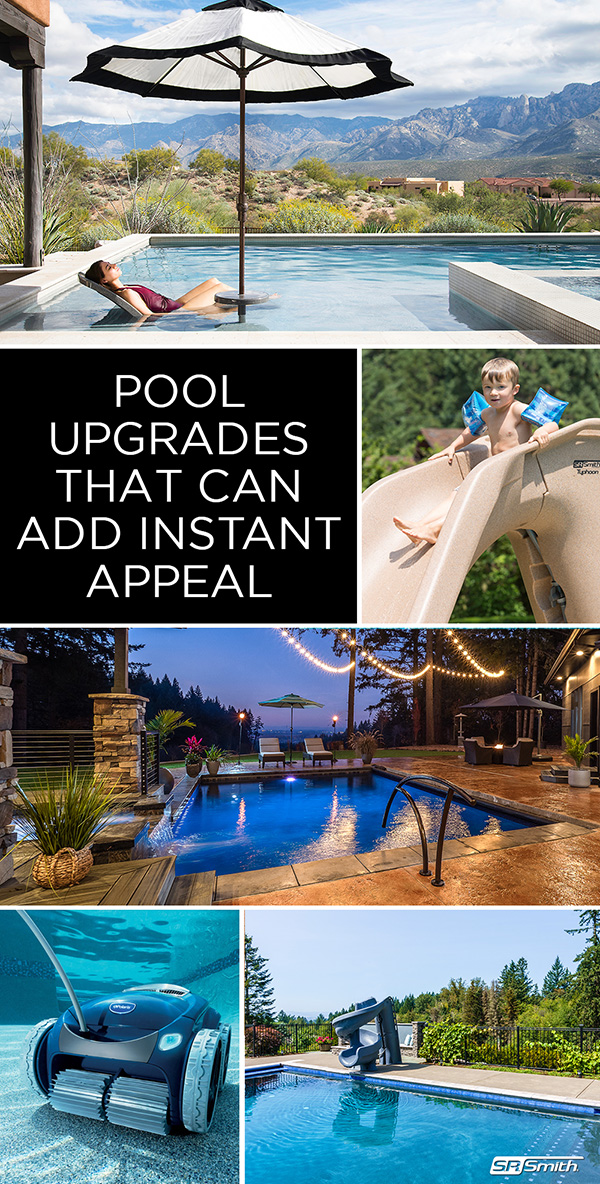 AUTOMATIC POOL CLEANERS ADD SAVINGS
When it comes to pool ownership, don't overlook the need to keep your pool clean and ready to enjoy. Polaris® automatic pool cleaners transform pool ownership with advanced technologies that handle the tedious tasks of everyday maintenance and operation – giving you freedom to enjoy the pool experience the way you deserve. With pool cleaning technology designed for your convenience, choose from a variety of automatic pool cleaning options – robotic pool cleaners, pressure-side pool cleaners and suction-side pool cleaners.
RESURFACING ADDS TEXTURE
For swimming pools, a plaster finish isn't just a bit outdated — it's also just not very durable. You may want to consider resurfacing with an aggregate finish instead. This type of finish comes in numerous textures and colors, and lasts a whole lot longer.
Aggregate finishes can utilize crystals, pebbles, and quartz to increase the plaster's durability. You can opt for a polished and smooth finish, or choose one that uses pebbles for a more natural feel. Whatever you choose, these varied surfaces also reflect and refract colors and light, producing gorgeous effects from the bottom of the pool all the way up to the surface.
Overall, renovating your swimming pool with an aggregate finish can increase the finish's life expectancy anywhere between 10 and 20-plus years. That way, your perfect pool days won't have to stop any time soon.
YOUR PERFECT POOL DAY AWAITS!
Upgrades don't have to be complicated or overwhelming — a few tweaks can go a long way. And once-humdrum backyards can easily become revamped into a place for the perfect pool day.
And most importantly, you just might fall in love with your pool all over again.