Have you owned your pool for a long time? When you gaze across the water, look around the deck, or observe the sides of the pool, is something missing? Essentially, has your pool suddenly lost its visual appeal?  If you answered "yes" to these questions, it may be time for an upgrade. A thoughtful and well-planned swimming pool upgrade can not only add value to your pool, it can transform the backyard into an eye-popping and relaxing sanctuary begging to be rediscovered. So when the time comes for an aquatic facelift, here are some creative ideas worth considering:
LIGHTS ADD COLOR
Out with the old, in with the new. A new set of LED or fiber optic lighting inserted directly into the floor or wall of a pool can bring both your pool and landscape to life. The old, incandescent bulbs you may be using now are probably white – and definitely boring. They lack pizzazz as well as energy efficiency. Modern LED lighting can last 20 times longer than traditional bulbs, shine brighter, and offer substantial long-term energy savings. Some LED systems also offer special "light modes" that you can easily customize.  So when inspiration hits, or the season changes, you can shift easily from one set of colors to another. Dazzling lights will enhance your outdoor living space so you can swim and entertain well after sundown.
RESURFACING ADDS TEXTURE
Aggregate finishes produce more durable surfaces than outdated plaster and come in a multitude of textures and colors. Quartz, crystals and pebbles increase the plaster's durability. These varied surfaces reflect and refract colors and light, producing gorgeous effects from the bottom of the pool up to the surface. Aggregate finishes can be polished and smooth, or bumpy, using pebbles, for a natural feel. Overall, renovating your swimming pool with an aggregate finish can increase the life-expectancy of the finish from anywhere between 10 and 20-plus years.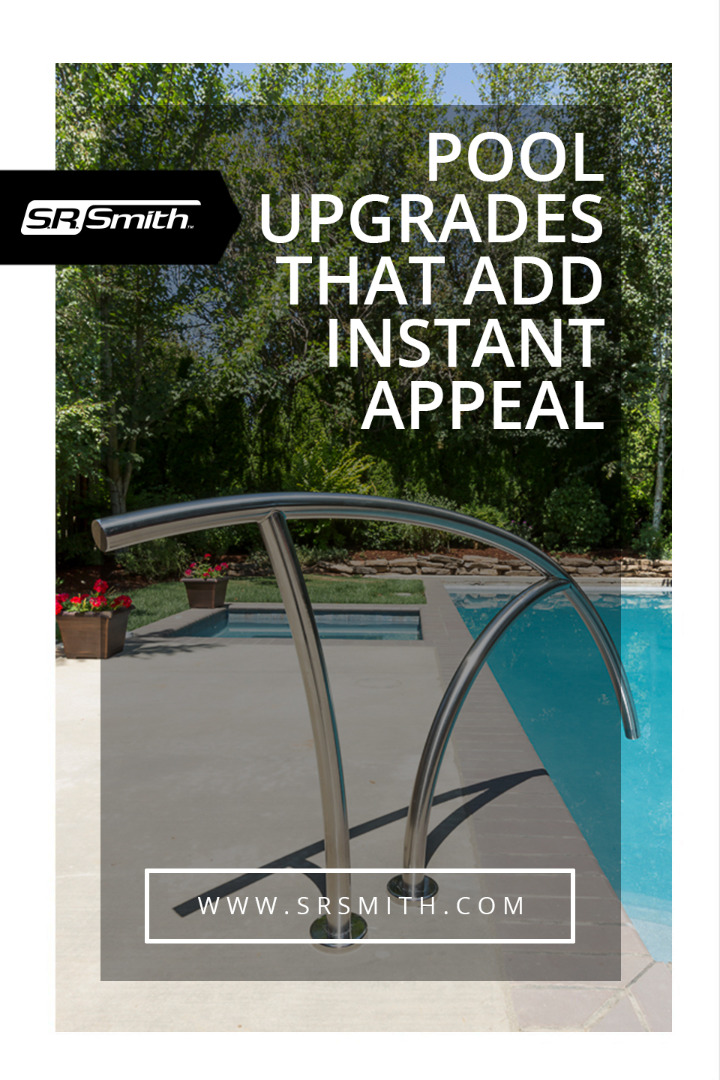 RAILS ADD STYLE
A rectangular pool is so…yesterday. But it doesn't have to be. Adding stainless steel Artisan or Meridian designer-inspired pool rails creates softer curves and brings your angular pool it into the 21st century.  These rails come in a variety of shapes and styles, adding a smart and sophisticated look to any deck. Both series are designed to retrofit easily with traditional pool railings. You might also add a tanning shelf to the inside of the pool so you can soak up the rays, cool off, and relax in style.

POOL FURNITURE ADDS COMFORT
Sun shelves or ledges are a great way to enjoy the pool without making a splash. S.R.Smith offers a line of in-pool loungers, tables and seating designed to stand up to salt, chlorine and sun. We even offer a table that is designed to retrofit existing sun shelf umbrella anchors. Available in 16" or 30" with optional cup holders, these in-pool tables, paired with our in-pool chair or lounger, create great conversation spaces.
PUMPS ADD SAVINGS
When it comes to saving money, don't overlook your pumping system. A variable-speed pump will not only clean your pool more efficiently, it can save you money while it runs. You can also save money heating your pool by installing sleek, modern solar panels. To maximize your potential savings, check with your local utility company to see what energy rebates they may offer.

Depending on your budget, the upgrades you select can make a huge difference all year long. Even better, you just might fall in love with your pool all over again.